Metro East Chapter of Credit Unions Charity Committee
Purpose Statement
Keeping with the Credit Union philosophy of "People Helping People," Metro East Chapter of Credit Unions Charity Committee will provide the necessary support to make a positive charitable impact within our combined communities.
The Metro East Chapter of Credit Unions has sought to focus and unify our charitable efforts. Recognizing this need a committee was formed January 23, 2007. The charity committee consists of nine members representing eight credit unions.
2014 Charities Announced!
| | |
| --- | --- |
| February - April | March of Dimes |
| May-June | Race for the Cure |
| July-August | School Supplies Collection |
| September-October | Wigs 4 Kids |
| November-December | Sponsor a Box |
In unifying our charitable efforts we reach out to all credit unions in the Metro East Chapter to support this worthy cause. We are committed to outreaches of all kinds and have been very successful in supporting many worthy causes since the onset of the committee in 2007.
| | |
| --- | --- |
| | Metro East Chapter Charity Committee donated $2684 to World Medical Relief in early February. Pictured here is Josephine Jabara,Director of Development and Community Affairs, Carolyn Racklyeft, Local Program Director, and Ronnie Johnson, Metro East Charity Committee Member. |
---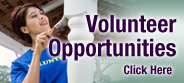 To join the charity committee or for additional information, please contact:
Crystal Gracz
Central Macomb Community Credit Union
586-466-7800 x - 116
cgracz@cmccu.com
Charity Committee Information: